Speaking to Ghosts with Medium, Joe Perrata
•
Posted on December 12 2020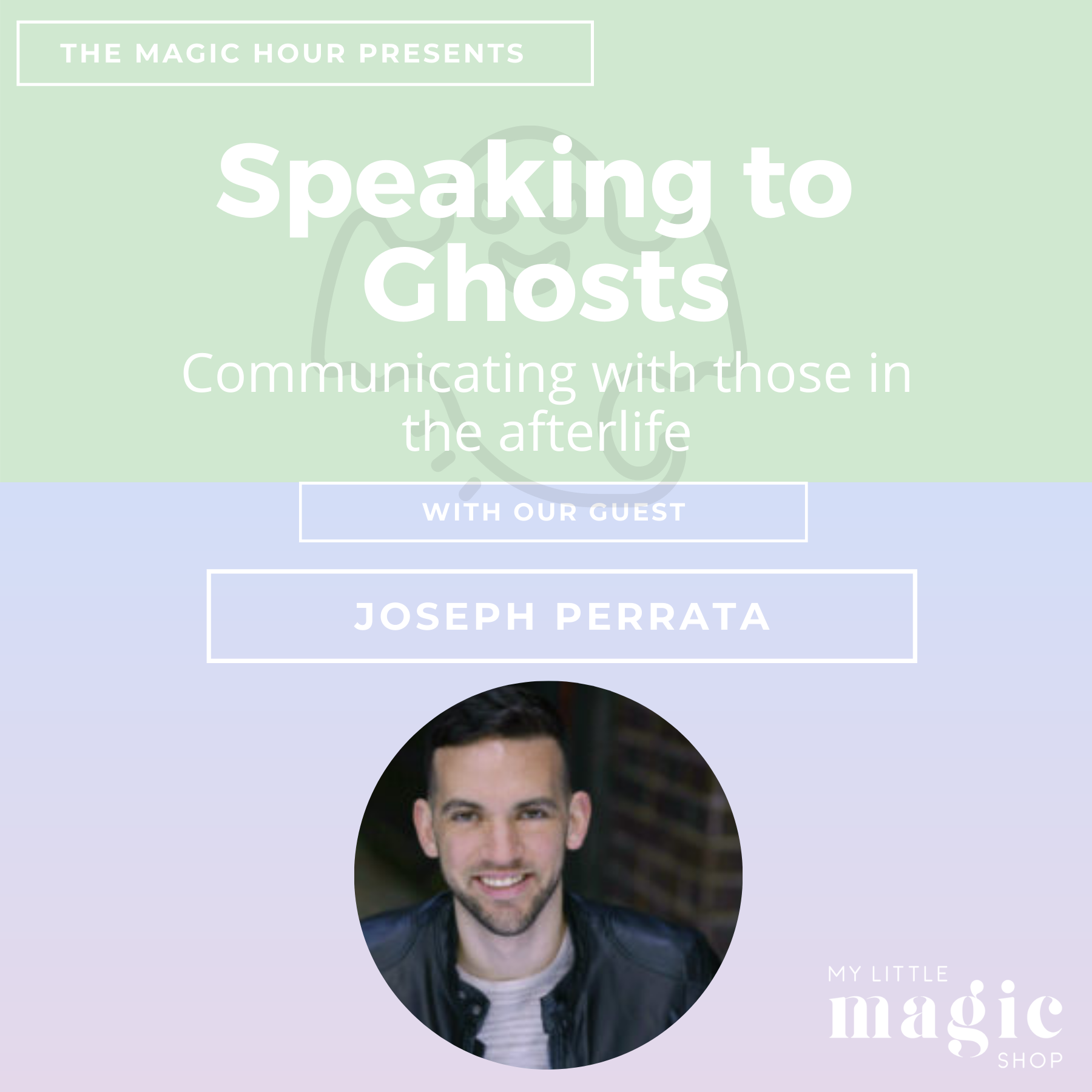 On this episode of The Magic Hour, we're talking about Ghosts, Guides and the Spirit World with the magical Joe Perrata. He is a Goop approved Medium and graduated from Forever Family Foundation. Joe is here with us to share his secrets on connecting with the spirit world and his intuitive practice. Let's make some magic.
Show Notes:
In today's episode of The Magic Hour, we're talking ghosts, guides, and the spirit world with Joe Perreta, a GOOP-approved psychic medium who graduated from the Forever Family Foundation. Joe shares his secrets on connecting with spirits and his intuitive practices.
 Joe provides guidance and healing to his clients through psychic and mediumship readings, helping them get back on track in life and facing the future with confidence after "bridg[ing] the gap between the physical world and the world of spirit." He does this by "providing extremely accurate information about those who have crossed over in order to ease the pain of losing a loved one."
Listen is as Joe discusses the childhood dreams and nightmares that led him down the path of mediumship, how not to be afraid of "ghosts", why a tiny percentage of people linger after death instead of going "into the light", living life with several spirit guides, and why he loves The Alchemist.
Episode Outline
●       [01:46] Joe's not-so-normal childhood
●       [14:25] How Joe dealt with his beginnings as a medium
●       [18:35] The spontaneity of mediumship
●       [22:53] Why you shouldn't fear the spirit world
●       [31:08] Joe's thoughts on telling spirits to cross over
●       [38:30] What is a "spirit guide" and how does Joe interact with them?
●       [43:05] How it feels to speak with your spirit guides versus a "regular" spirit
●       [49:00] Moments when Joe questions his vocation
●       [49:50] Joe's favorite books
●       [57:40] Consistent activities and rituals that Joe does to maintain his sense of inner peace
●       [59:07] Joe's creative process
●       [1:00:17] How Joe gets out of emotional ruts
Powerful Quotes by Joe
●       For most mediums, their gift expresses itself spontaneously. Often, you don't know why things are happening, so you just embrace it.
●       In my experience, there really is nothing to fear with the spirit world.
●       By working with spirits and feeling like you can talk to them, your attitude of fear tends to change. It's like you're just talking to another human, though one on the other side of the veil.
●       I think that questioning yourself sometimes keeps you grounded. If you start believing your own hype, that's when you really go into the danger zone.
●       Anything that requires me to be creative and produce beauty grounds me and brings me so much inner peace.
Resources Mentioned