Shamanic Journeying to Heal Yourself with Itzhak Beery
•
Posted on December 21 2020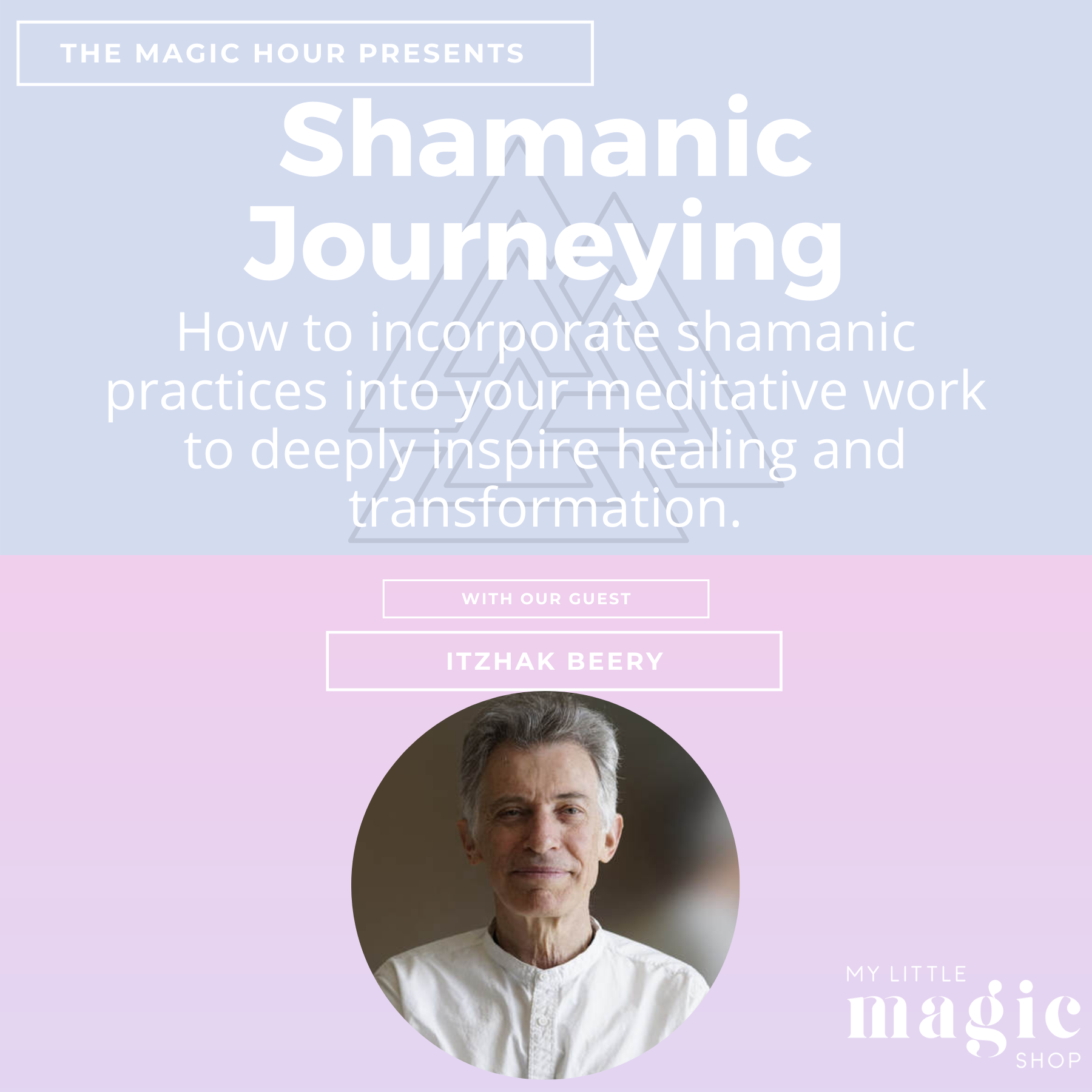 On this week's The Magic Hour, Shereen will be talking about Shamanism with the magical Healer, Author, modern-day Shaman and one of her favorite teachers, Itzhak Beery. He has written three books on Shamanism and teaches classes around the world. Itzhak Beery is here with us to share how he got into shamanism, shamanic journeying, and some tips on how anyone can start using shamanic practices in their life today. Let's make some magic!
Show Notes:
In today's episode of The Magic Hour, we're talking shamanism with the magical healer, author, teacher, community activist, and modern-day shaman Itzhak Beery. He has written three Amazon bestseller books on shamanism and teaches classes around the world. Itzhak is a recipient of the "Ambassador for Peace Award" from The Universal Peace Federation and the UN.
Itzhak started his journey in shamanism over 25 years ago. In fact, it was only later in his life when Itzhak transformed from staunch atheist to passionate advocate of spiritual wisdom and healing. Itzhak is here to share with us how he got into shamanism, and some tips for anyone who can start using shamanic practices in their life today.
Listen is as Itzhak discusses his life growing up in an Israeli Kibbutz and working for big advertising firms in New York, how shamans can fully embrace their practice in today's world, why immersing oneself for a time in a foreign country is a spiritually nourishing experience and the steps we can take to undergo spiritual healing right now.
Episode Outline
●       [01:17] Itzhak's life as a "skeptical atheist" before shamanism
●       [10:25] The truth about change and growth
●       [13:51] The day-to-day realities of a modern-day shaman
●       [18:48] How Itzhak built his career as a healer
●       [25:56] Itzhak's experience living in the Andes in 1997
●       [35:19] What is "shamanic journeying"?
●       [41:09] Trusting ourselves to undergo the process of spiritual healing
●       [44:12] How to experience "energy healing"
●       [48:12] What Itzhak would tell his younger self
●       [53:33] Consistent activities and rituals that Itzhak does to maintain his sense of inner peace
●       [55:17] The most inspirational person Itzhak has ever met
●       [59:09] Itzhak's favorite books
Powerful Quotes by Itzhak
●       There is more to the world than the world that we see. In fact, what we see is just a small part of the whole cosmic world.
●       The world never really changes. It's all about your perspective—how you see the world change.
●       If you want to create change in your life today, you don't have to change what you do. You just have to change the focus of what you do.
●       If we want to change our society, before sending kids to college for four years, they should spend one year in another country and experience another language and culture, and to serve that community.
●       The basis of shamanic journeying is the ability to transcend your consciousness or awareness from the alpha state of mind into the beta, which is of a lower vibration. This quiets the mind and allows you to go into a dream state.
●       The shamanic work is about learning to transcend everyday consciousness into higher consciousness to bring information, knowledge, and tools to help us heal the physical, emotional, and spiritual body, and to heal the Earth.
●       Always follow your gut and never allow fear of others' opinions stop you from fulfilling your life purpose.
Resources Mentioned