Crystal Healing While On A Budget
•
Posted on January 14 2021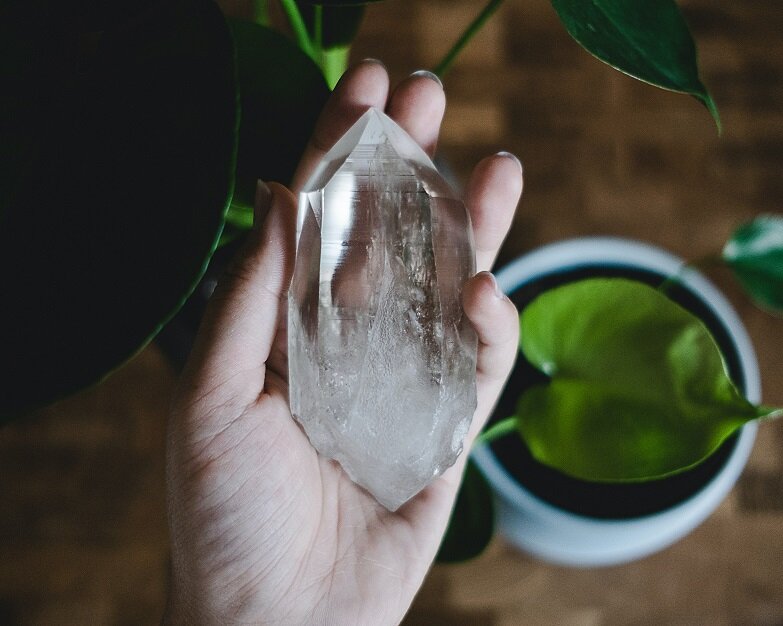 Times are tough, there's no doubting that. For many of us, we've had to cut back on our spending budgets or cut out spending on our magic-crafts all together.
Or maybe you find yourself in these times want to get into crystal magic, but don't want to make too big of an investment. Whether you're just starting out with crystal magic or just keeping up with the craft while on a short budget, this article has you covered with some of the most budget-friendly and useful crystals out there.
Basic Money Saving Tips
Before we start getting into the crystals, a few helpful words should be mentioned.
When it comes to crystals, it doesn't matter what form the crystals take. Whether they are traditionally crystalline in shape, raw, or tumbled: it still has the same properties.

You should also make sure you know how to properly care for your crystals. Just because some of these crystals may be on the cheaper end, doesn't mean they're any less valuable to your collection and craft. It would also be a waste of investment to care for them improperly.

Lastly, you can also find some of these crystals in dollar stores or bulk buy bins, but do be wary that what you're receiving is actual crystals and not just colored glass or stones. Crystal and rock identification may be difficult at times, so if you want the genuine thing and aren't sure it may just be best to buy from reputable sources.
Effective Crystals While On A Budget
Here are a few crystals that can help you to get into crystal healing without spending too much money:
Quartz
Quartz crystals are some of the most budget-friendly and common crystals on the market. Finger length specimens can be found for around $3-5, while if the size doesn't matter to you smaller specimens can be found for just about $1-2. Since there are so many members of the Quartz family, it's worth mentioning that many of these variants share common abilities.
All of these variants share spiritual cleansing and negative energy disbursement as effects, and some variants share other effects such as feelings of serenity. As such, to best maximize your budget you should pick a few traits that are most important to you at the moment and choose your crystals from there.
Regardless of what Quartz crystals you choose, owning any one of these crystals will make for a great addition to your collection.
Lepidolite
Lepidolite is a beautiful purple stone that can vary from a deep purple to a pinkish-purple. These stones have a good price range with crystal-point-shaped specimens selling for $5 each and tumbled stones selling between $3-4.
For a rarer mineral, I believe this is a great price point! Lepidolite is a very strong healing crystal known for its calming nature and aid in clarity. If you need guidance through a great transition in your life Lepidolite is there to hold your hand through it all. Overall, an excellent addition to any healing crystal set.
Black Tourmaline
Colorful stones, not your flair? Try Black Tourmaline instead, which comes in mostly black or uncommonly in red, green, and clear varieties.
There are many different types of Black Tourmaline and a common one you may find while building your collection is known as Schorl. While researching the price point, it seems the best bang for your buck would be the tumbled stones (selling for between $3-5) or raw (selling for between $3-6).
Black Tourmaline is known as a cleansing and calming stone and is good for releasing negative energy. Black Tourmaline is soothing, if you need relief from stress or anxiety then this crystal is sure to do the trick. Lastly, Black Tourmaline is protective of not only yourself but of your crystal grids as well, so if you want to keep the negative energies away then Black Tourmaline is the perfect addition to your healing crystal regimen!
Obsidian
The opaque, black volcanic glass known as Obsidian is next on our list. Obsidian can come in multiple colors such as green and blue, or in other varieties such as Snowflake and Gold Obsidian. If you want to get a sample for your collection, you can find normal Obsidian in raw or polished stones for around $3-7.
Obsidian is well known to aid in spiritual and emotional healing. Obsidian is a grounding stone, allowing us to firmly plant ourselves and see our reality and its truth. Besides its deeply rooted healing abilities, Obsidian is just a neat crystal to have. Thinking of how the violence of a volcano can leave behind these beautiful black stones is just neat in its own right, and I think it is reason enough to have a specimen.
Final Words
If you've ever dreamed of owning healing crystals but always thought the price range for the best crystals was out of reach, hopefully, this article has enlightened you into the more common and budget-friendly ones out there.
For me, my collection has been something I've been growing slowly over the years through purchases I've made or as gifts from friends and family. As a reminder, many of these crystals share similar healing effects, so in the end, it's up to your own personal needs and aesthetics as to which you believe will make their homes in your collection.
About The Guest Writer:
Keelin Gunnells is an aspiring teacher who likes to create art and write on the side.
You can find Keelin on her Instagram @trivialarmor