Blame it on Mercury! Here's how the first Mercury Retrograde of 2022 will affect your zodiac sign
•
Posted on January 18 2022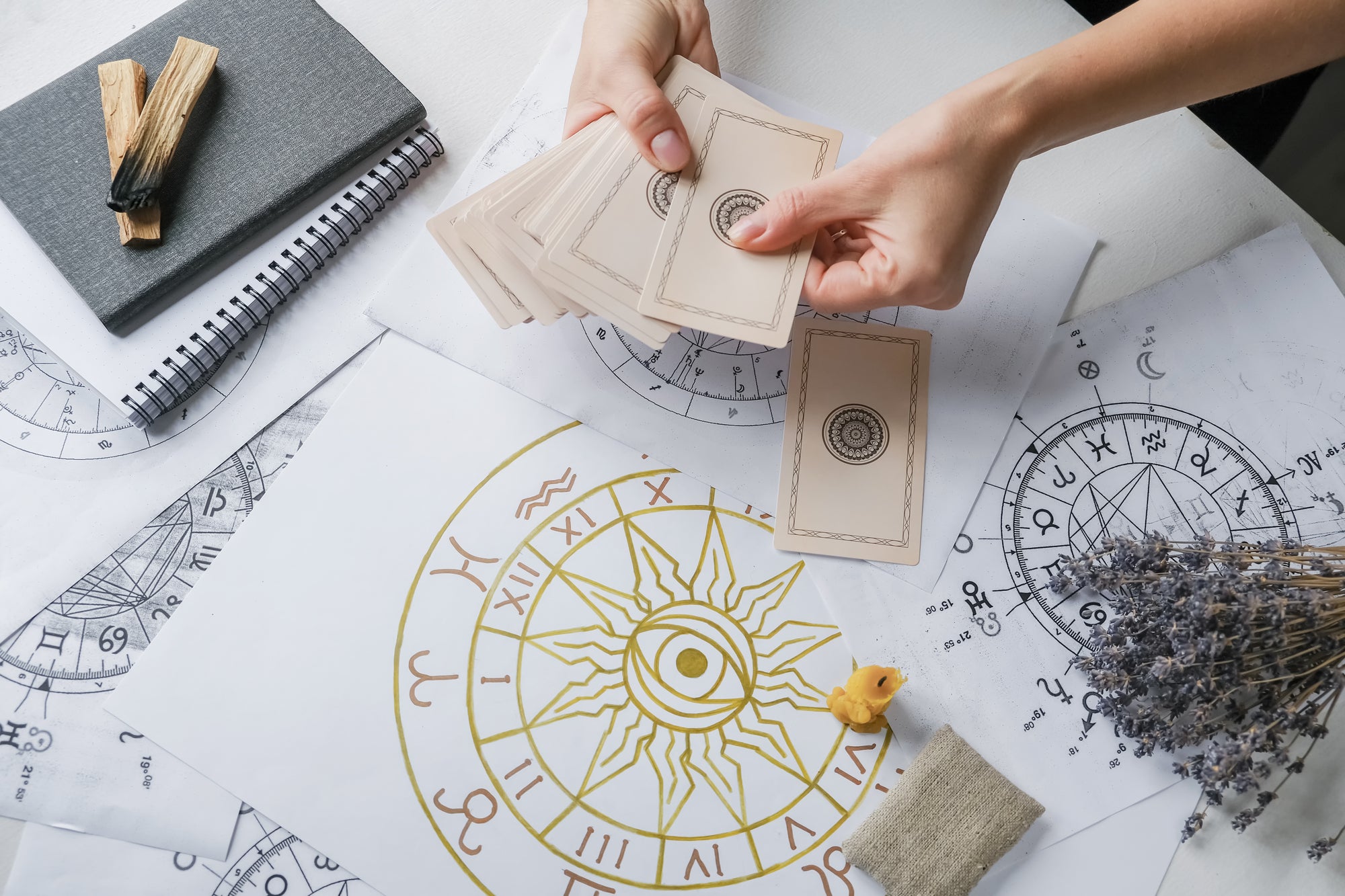 Mercury is in retrograde for the first time this year from January 14 to February 3! 
This Mercury Retrograde will bring a lot of inevitable drama with it — but hold up, it's not a time to engage in self-loathing. Yes, things will be a little bit shaken up. Still, the most important thing is to know how it will affect you so you can not only be better prepared to handle all that comes with it but learn to use it to your advantage. Mercury in retrograde isn't going to last forever, so don't break out in a cold sweat; experts say it lasts for about three weeks, so simply look for more opportunities to re-evaluate, course correct, revisit and refine anything that comes up for the rest of the month, and you'll be fine.
How will Mercury Retrograde of 2022 affect your zodiac sign? Let's find out! 
PS. If you want to up the ante this Mercury Retrograde, check out our new Grounded AF: Mercury Retrograde Survival kit.
HOW MERCURY RETROGRADE WILL AFFECT ARIES
For Aries, it's time to take a step back and evaluate your connections with your friends, associates, and community. 
The beginning of this Mercury Retrograde will bring confusion and, yes, a lot of gossip. It's also possible to have a disagreement with a friend or two. 
Avoid gossip at all costs, as your words will almost certainly come back to haunt you. Don't feel bad about removing toxic people from your life, especially if their negativity and toxic behavior are consistent. Any changes in your friendships should be viewed as a sign from the universe that it's time to move on with your life. 
In your professional and career life, you may experience some setbacks and delays. Still, not to worry - anything that appears now is simply giving you the opportunity to review it and change your course! 
HOW MERCURY RETROGRADE WILL AFFECT TAURUS 
Dear Taurus, brace yourself for things to get a little shaky in your career life. Don't be so eager to start up a new project or a new job; you may end up regretting that in the end.
Rather than beginning a new program or seeking a new job, this time would be better spent tying up loose ends on older projects at a current job. Taking care of unfinished business at work or catching up on things you've fallen behind on will help you feel prepared to act once the retrograde is over.
HOW MERCURY RETROGRADE WILL AFFECT GEMINI 
You may begin to feel that the drama of retrograde is hitting you especially hard, but this is simply because Mercury is your ruling planet. This season's cycle will most likely cause you to be perplexed about how you're pursuing new horizons in your life. Also, you may be frustrated that your travel, academic, or business affairs are experiencing snags.
This season, try not to engage yourself in overthinking things; instead, use this time to go deep with yourself and work through any hidden fears preventing you from reaching for the stars.
HOW MERCURY RETROGRADE WILL AFFECT CANCER
Cancer, you may find it difficult to keep up with your new year's resolutions. The retrograde will continue to jeopardize all the efforts you've been putting into making your resolutions work. 
Miscommunications, technological hiccups, and issues in your personal and professional life may tempt you to revert to old habits, but try not to undo all the progress you've made so far in 2022.
Mercury Retrograde drama may also spill over into your relationships, bringing unspoken resentments to the surface. Take care of the skeletons in your closet so you can move forward with a clear conscience.
HOW MERCURY RETROGRADE WILL AFFECT LEO 
For Leo, the first Mercury Retrograde of 2022 shines a light on your intimate relationships, including those you think you may have left in the past. Exes may begin to lurk or even reach out. If you're yearning for the good old days, find out what they're up to. 
Confusion about work, employment, health, or pet situations may begin to grate on your nerves later in the cycle.
HOW MERCURY RETROGRADE WILL AFFECT VIRGO 
Virgo, you may want to brace yourself for a messy few weeks ahead. You might start to wonder where you're going wrong in these areas now that Mercury is in retrograde and shining a spotlight on your routines, habits, and daily tasks. This isn't a sign to turn your entire life upside down; rather, it's a time to consider some small, immediate changes you can make to your habits to feel more coordinated, inspired, and energized.
HOW MERCURY RETROGRADE WILL AFFECT LIBRA 
For Libra, inspiration and creativity may be heavily affected during Mercury Retrograde.
This season is prompting you to reconsider these areas, possibly in relation to how you express your creative visions or feelings. This is an excellent time to devote a little more time to whatever allows your creativity to flourish — and the same can be said for your romantic life.
HOW MERCURY RETROGRADE WILL AFFECT SCORPIO
For Scorpio, it may be time for some personal house cleaning. Do your best to roll with the punches rather than standing on your high horse during the initial period of the cycle, which will bring confusion around the home, domestic, or family concerns. You will absolutely regret any decisions you make about moving, redecorating, renovating, or relocating.
Now that communication is more difficult, you'll want to be extra careful about how you express yourself in everyday conversations.
HOW MERCURY RETROGRADE WILL AFFECT SAGITTARIUS
Sagittarius, be careful what you say and to whom you say it during this season.
If you speak out of turn or step out of line during Mercury's retrograde phase, you will be punished. On the one hand, you may notice that a major writing, speaking, or contractual project is out of whack, but you may see this as a blessing in disguise as you approach things from a different angle.
Instead, tread carefully when speaking with people in your immediate vicinity. If you need more information, don't be afraid to ask for it, and avoid jumping to conclusions too quickly. 
HOW MERCURY RETROGRADE WILL AFFECT CAPRICORN 
For Capricorn, expect to feel the effect of the Mercury retrograde of 2022 in a tangible way. 
Mercury is about to go retrograde, he's wearing devil horns, and he's about to burn through some of your money! Money, income, and wealth delays may be making your knuckles white. Take a deep breath and relax; all you need to do now is keep track of where all of your money is going.
Taking things day by day is the best way to deal with this slump, so instead of attempting new ventures, use this time to fine-tune your current ones.
HOW MERCURY RETROGRADE WILL AFFECT AQUARIUS
For the Aquarius, this Mercury Retrograde is a big one for you. Because it falls under your sign, you're likely to be affected by this transition on a personal level, reflecting on who you were and who you are now. If you're unsure of yourself, take a moment to slow down, reflect on what you've learned about yourself in the past year, and consider how you can practice authenticity.
HOW MERCURY RETROGRADE WILL AFFECT PISCES
For the Pisces, during the Mercury Retrograde of 2022, you may begin to feel a little reclusive, and this may envelop you in your subconscious mind, dreams, secrets, and themes of closure. 
Situations, secrets, and people from your past may also surface during this time, so either confront them or let them go. Mercury will cyclone through your network and friendships later in the cycle, likely leaving some drama in his wake. Yes, this implies gossip, and yes, it also implies that exes may be lurking. Post that hot selfie and ignore the haters!