Astro Alert: Full Moon In Gemini Incoming
•
Posted on December 15 2021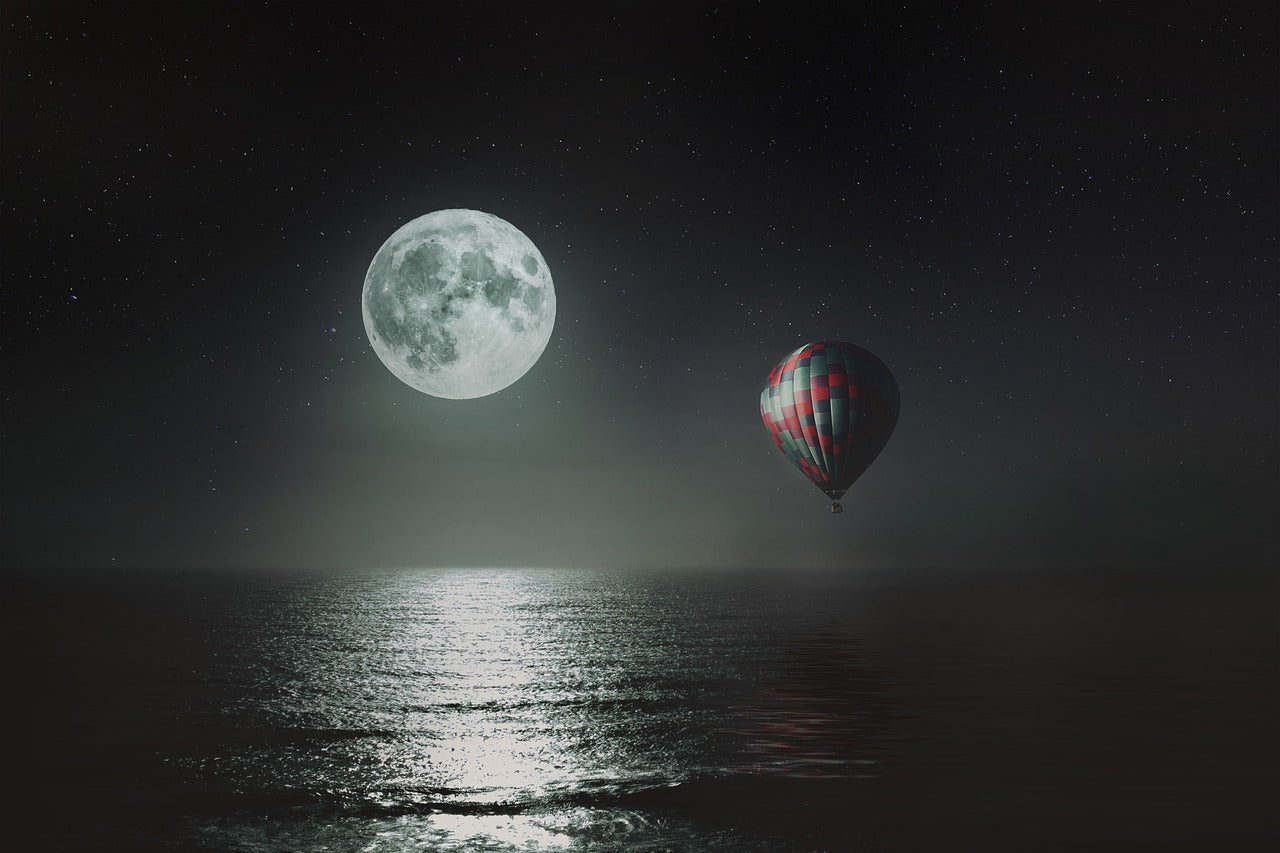 The Gemini Full Moon on the 18th is a time when our emotions and thoughts might be running wild. Curiosity may lead us in new, eye-opening directions.
Past efforts linked to communication, education, knowledge, or transactions of any kind can now bear fruit; this is a light, abundant Moon that supports us with the results of our actions and encourages us to follow our desire to know and to connect. On this Full Moon's "let it go" list: overthinking, rationalizing our emotions, or multitasking to exhaustion. Community and mental health can be more important than ever at this time.
Full Moon in Gemini:
December 18
As Eclipse season is waning, the Moon reaches the peak of her fullness again, heightening our emotions and revealing new results and insights, this time when it comes to all things Gemini: education, learning, teaching, communication, short trips, and transactions. In the middle of a complicated month, this Full Moon can be a breath of fresh air that reconnects us to what feels expansive and abundant in our lives.
What has started in your life around June 10 in the area of knowledge and communication? Whether it's a new course or interest, an educational project, a friendship, or a job that requires you to make the best use of your intellect and your voice, it might be coming to a point of fulfillment during this Full Moon horoscope. With lucky Jupiter in the mix, a promotion, a raise, or a new opportunity might be due for many of us! Others might reconsider their choices and make necessary adjustments as information that was previously unavailable is now coming to the surface.
With the Sagittarius Sun and the Gemini Moon, our minds are our most important instruments at this time. The usual purification and release supported by the Full Moon is now about gaining more mental clarity as we release thoughts or beliefs that no longer serve us. We might be prone to excessive worries or overthinking at this time; breathwork or meditation has never been more welcome than during a Gemini Full Moon, when intense emotions might push us to escape by overanalyzing every possibility. Take a deep breath and notice your body. Stay anchored in the present moment, where the answers are simpler than they seem.
The Gemini – Sagittarius opposition speaks about marrying reason with intuition, skepticism with faith, existential pondering with the raw, visceral joy of living. Information meets knowledge, details meet the bigger picture. How is this polarity reflected in your own life? Where do you need to ponder more and where do you need to notice your thoughts, thank them, and come back into the present moment? The houses that Gemini and Sagittarius occupy in your natal chart can give you more information about the life areas that are active for you at this time.
In a beautiful trine with expansive Jupiter, this Moon can be a great moment for finding support and growth in our community. We're more likely to seek freedom and to reach out to the people who understand and love us as we are. Freedom of speech and authenticity are big themes in mid-December! A friend, a group, or a benefactor could be particularly generous to us at this time. A project linked to science, technology, innovation, community, or astrology could bear fruit. The common thread is our need to explore the world and to seek understanding without borders.
The tense aspect between Mercury (the mind) and Chiron (the wounded healer) shows a possible challenge on this Full Moon: to trust our thoughts and our voice, especially when some situations trigger insecurities about who we are or what we believe in. Stay mindful: the Gemini Full Moon for aquarius an show us that words have the power to hurt, but also to build and to heal. Deep conversations, writing, boundary setting, clear and efficient communication can help us move forward at this time.
The Sabian symbol for the Full Moon is "Through bankruptcy, society gives to an overburdened individual the opportunity to begin again": a chance for a new start after the Eclipses have swept away what was no longer working in our lives. If you have powerful placements around the 27th degree of Gemini, Virgo, Sagittarius, or Pisces, you'll feel the effects of this Full Moon the most, but all of us can reach a moment of release, insight, and fulfillment in the life area ruled by Gemini in the birth chart.
Full Moon Journal Prompts:
How have I been expressing myself and following my curiosity in the past six months?

What can I celebrate about my communication-related projects or my social life? What am I grateful for?

What mental patterns or thinking habits (such as worry or overthinking) do I need to release?
Tune In To Our Blog To Learn More About Astrology & Check Out The Astrology Tools Below To Maximize Your Magic During The Gemini Full Moon In December!