Sleep, Human Design and Radical Commitment with Aycee Brown
•
Posted on January 03 2021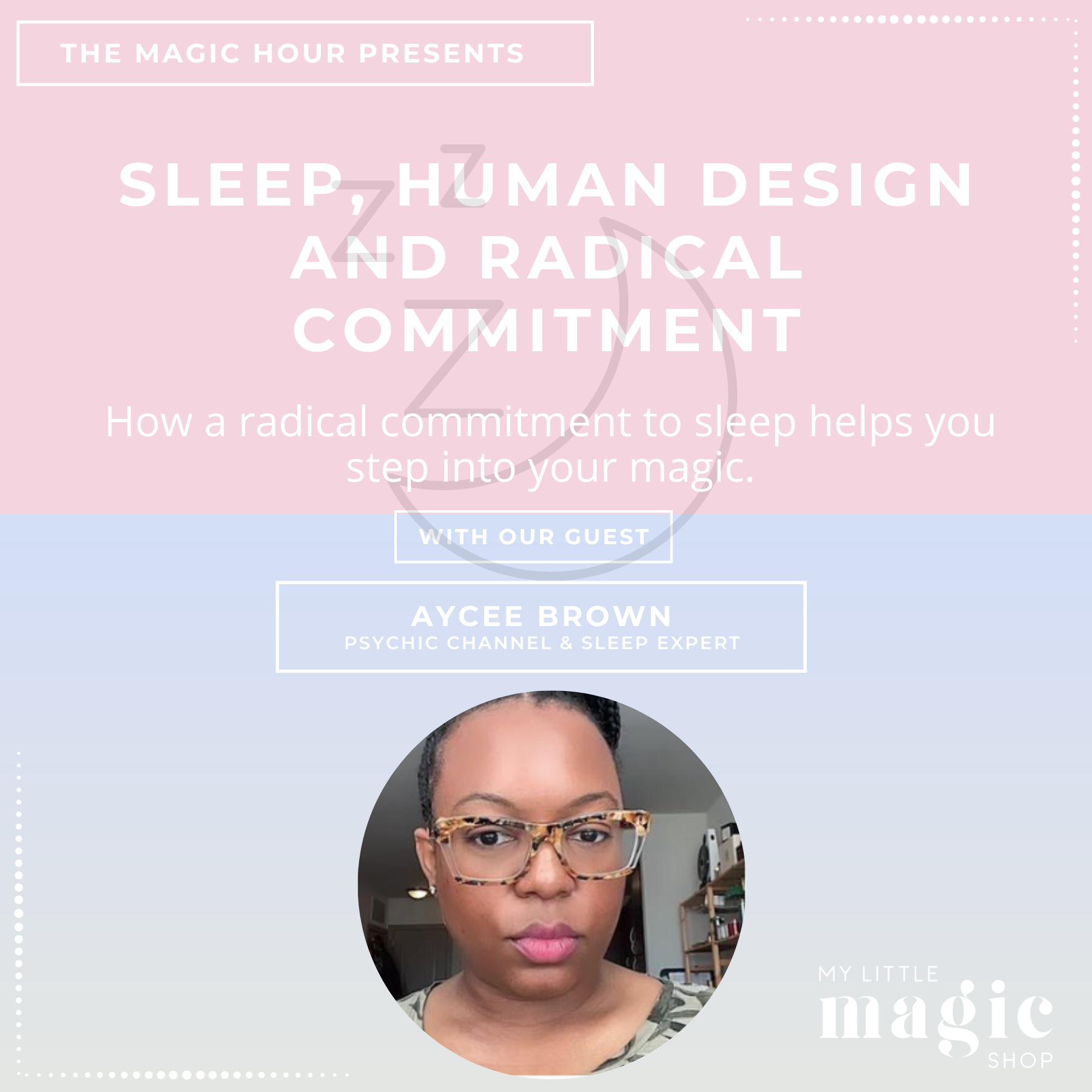 On this week's The Magic Hour, Shereen will be talking about sleep, human design and radical commitment with Psychic Channel, Aycee Brown. She's an expert at Human Design, teaches about spiritual development and might become your favorite Human Design Bae and she's here to share her wealth of knowledge on the magic of sleep, human design and how a commitment to spiritual development can literally change your life. Are you ready to make your own magic?
Show Notes:
In this episode of The Magic Hour Podcast, Shereen talks with Aycee Brown, a Psychic Channel, Spiritual Guide & Teacher, Entrepreneur & Your Favorite Human Design Bae.
Listen in as Aycee discusses how she discovered her affinity for spirituality in his youth, the keys to spiritual development and the ins-and-outs of human design, sleep and radical commitment.
Let's Make Some Magic!
Conversation Highlights:
[01:06] How it all began
●      Aycee's upbringing
[04:16] Her journey towards spirituality……
[06:30] What actually is Astral Projection?
●      Do you really need sleep medication?
[10:05] How to get enough rest at night in a healthy manner?
[11:23] GoodNightDarling in a nutshell.
●      Have you visited GoodNightDarling.co?
[14:06] What is Aycee's Sleep ritual?
[15:43] Your Sleep Rituals depend on your lifestyle.
●      Aycee divulges into different types of Sleep Rituals for different kinds of people.
●      How did the Former FLOTUS and POTUS navigate sleep together?
[17:50] Aycee's perception of what Human Design is?
[21:45] Whole sign is a lot more accurate when you are over 30.
[24:53] Going back to Human Design…..
●      What does it feel to be a Human Designer?
[28:05] Pluto energy is really about 'the Power.'
[28:36] How to step in?
[30:21] What are the daily rituals that Aycee performs to maintain inner peace?
[31:09] Best books for self-development.
[31:28] Do Aycee prepare before a creative process?
Remarkable quotes:
"Dreams are a wonderful gateway into your soul and self-actualization."
"Astral Projection feels really good!"
"As an Astrologer, it will always be a commitment to learning astrology your entire life."
 "Without a dream, you can't have a dream come true!"
Don't forget to
●      Shop at GoodNightDarling.co
●      Check out the Fade to Black Herbal Tea at GoodNightDarling.co.
●      Get your copy of Worthy: Boost Your Self-Worth to Grow Your Net Worth
Book by Nancy Levin
●      And It's Not Your Money: How to Live Fully from Divine Abundance
Book by Tosha Silver
Connect with Aycee
●      YouTube
●      Twitter
●      Her Podcast : Is My Aura On Straight?
Special Reminder:
Check out Mylittlemagicshop on Instagram and Facebook.
Connect with Shereen on LinkedIn.
P.S. - Tune In every Sunday for new episodes and make sure to check out the show notes at https://www.mylittlemagicshop.com .