Astro Alert: Mars And Venus Enter Aquarius
•
Posted on March 05 2022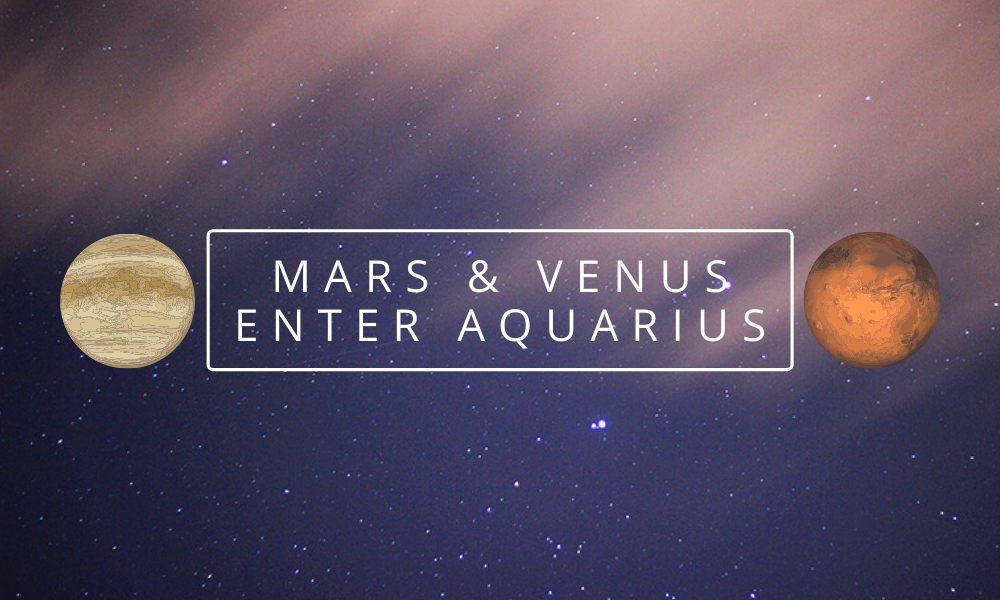 The second week of March kicks off with both Venus, the planet of love, and Mars, the planet of action and desire, entering progressive Aquarius on the 6th. When it comes to romance, but also creativity, we can feel like it's easier to see things from a detached, experimental, and hopeful perspective, after a longer transit of these planets through Capricorn has kept the focus on boundaries, realism, and caution.
Mars in Aquarius:
March 6 – April 14
Until March 6, fiery Mars progressed through Capricorn, the archetype of the father and the manager, favoring a practical, responsible approach in our work and our relationships. As the planet of passion and initiative enters the innovative sign of Aquarius, the following month encourages us to be anything but shy: it's a great transit for starting new projects, meeting people from different walks of life, having fun with friends, and being bold and experimental in love.

Aquarius is the sign of science, humanitarian pursuits, and community values: we could see a rise in activism in the following month or notice that people around us are more passionate about their ideals. It's a perfect timeframe for starting a project that involves a larger group of people or taking initiative for a cause we believe in. Many of us could also feel creative and experimental in our line of work: this transit favors new discoveries, technical improvements, and the use of innovative methods. It can be a great time to expand an online business or to reach more people through social media platforms.

In relationships, we'll value independence and novelty during this transit. Ideally, we set appropriate boundaries in love and take enough time for our hobbies and friends; many of us could have a shorter fuse when we feel that our freedom is limited, especially if we have Taurus, Leo, Scorpio, or Aquarius placements in the birth chart. On the bright side, we're supported to try new things in the bedroom, to meet someone new, or to reignite the spark in an existing relationship by seeing the other in a different light.

During the second part of March, with a peak on the 22nd, Mars squares Uranus, the eccentric ruler of Aquarius. It's easier to distort this placement's need for freedom and novelty by refusing to take responsibility for our impact on others, being excessively reactive, and wanting to burn all bridges by making a radical change. Ideally, we're mindful of our impulses during this time, choosing to act not from a place of reactive rebellion, but from a deeper awareness of the changes we seek. 
Another highlight of this transit is April 4, a day that favors steady efforts toward change and supports knowledge or community-related initiatives. Around this day, we've got the chance to see temporary limitations as opportunities to strengthen our discipline and our resolve.
Venus in Aquarius:
March 6 – April 5
Alongside passionate Mars, Venus, the planet of love, also moves through Aquarius in the following month, giving us a boost of energy for romance and socializing. It's a great time to plan social events, make new friends, and start projects in association with like-minded people. The energy is friendly, fun, and light-hearted; we'll be looking for connections based on an intellectual rapport and we'll have little tolerance for drama.
We're likely to be attracted by outcasts, love wolves, innovators, or spiritually inclined people this month. An affair could start unexpectedly; some of us could find love in unpredictable places, while others could feel attracted to a friend or to someone they met in a group context. 
The only significant aspect that Venus makes with another planet is her conjunction with commitment-oriented Saturn on the 28th, revealing that we might be cautious with our feelings and guided by high standards in love at the end of March. It's a great time to establish boundaries and to set our priorities straight in relationships; work-wise, it's a favorable time for slow, but steady progress in business. As a challenge, those of us who are alone could feel more pessimistic; relying on friends and nurturing self-love can help at this time.
Check Out Our Astrology Guides For Monthly Astrological Guidance!