The Shaman's Way with Jonathan Hammond
•
Posted on November 22 2020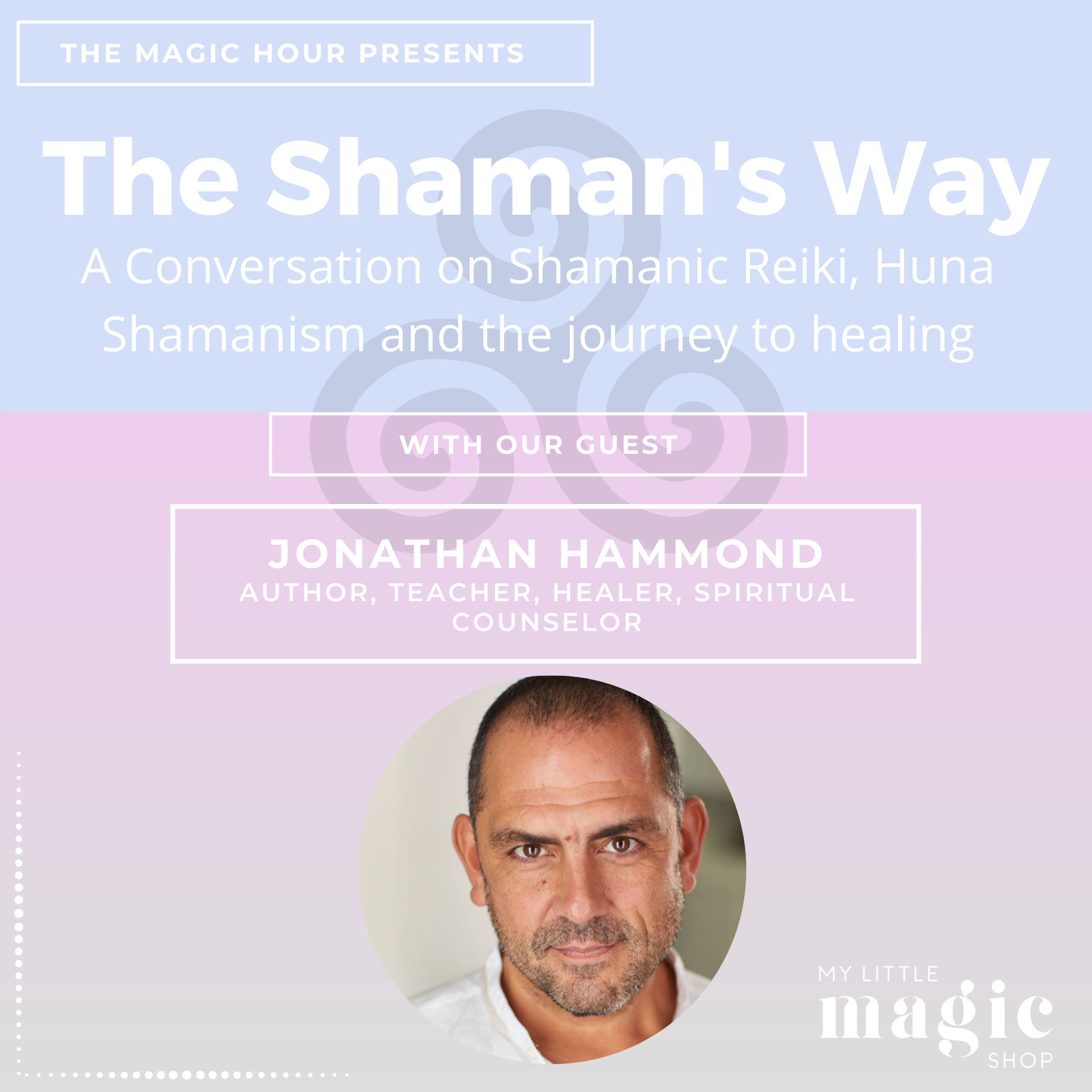 The Magic Hour presents a conversation on Shamanic Reiki, Huna Shamanism and the journey to healing with Jonathan Hammond. Jonathan Hammond is an author, teacher, healer and spiritual counselor. He is also a Shamanic Reiki Master Teacher, leading new healers into the magic of shamanic reiki, journeying and other shamanic practices. He recently released a book, The Shaman's Way where he discusses the principles Huna Shamans live by and that you can live by too.
Show Notes:
In this episode of The Magic Hour Podcast, Shereen speaks with Jonathan, an Author, Spiritual Teacher, Energy Healer, Shamanic Practitioner and Spiritual Counselor. He is a graduate of Harvard University and The University of Michigan. Jonathan is also a certified Master Teacher in Shamanic, Usui and Karuna Reiki.
They discuss shamanism and the seven principles of Huna.
Let's Make Some Magic!
The seven principles of Huna:
●      The world is what you think it is
●      There are no limits
●      Energy flows where attention goes
●      Now is the moment of power
●      True love is to be happy with
●      Nothing has authority over you unless the authority in you decide to give it authority over you
●      Effectiveness is the measure of truth
Conversation Highlights:
●      [00:37] A journey to spirituality…
●      [05:39] A bit more about Huna shamanism.
●      [09:45] How can Ayahuasca help you?
●      [13:03] How does energy healing works for you?
●      [17:38] A Search for healing…… (Seeking the distance between Shamanism and Reiki)
●      [19:31] What it feels like to transform into a spiritual teacher?
●      [21:42] The seven principles of Huna (MUST LISTEN)
●      [30:59] How you can become more in flow with the universe?
●      [35:40] An advice for younger ME.
●      [36:50] Three questions of self-care (MUST LISTEN)
Remarkable quotes:
"All powers come from within."
"Your life is for you."
"The world is what you think it is."
"All illness is born of tension."
Don't forget to
Check out "The Shaman's Mind: Huna Wisdom to Change Your Life" by Jonathan Hammond.
 Connect with
●      Jonathan
●      Jonathan's Twitter handle
●      Jonathan on Facebook
Special Reminder:
Check out Mylittlemagicshop on Instagram and Facebook.
Connect with Shereen on LinkedIn.
P.S. - Tune In every Sunday for new episodes and make sure to check out the show notes at https://www.mylittlemagicshop.com .