Who Are You? - About Your Sun Sign
•
Posted on April 11 2018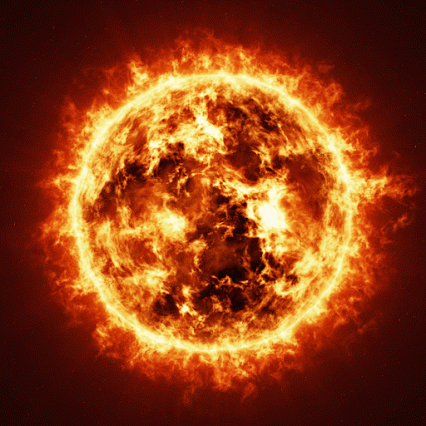 "I'm a Capricorn", "I'm a Libra"- we give these answers automatically when someone asks us about our sign, yet beneath them lies an identification with some basic traits, a powerful act of stating "This is who I am". This act of defining oneself, of affirming one's identity, sits very well with the function of the Sun, which I'll be writing about today.
When we think about our identity, we usually don't reflect on those crazy nights in town or those cozy evenings in bed, we don't think about how well we slept or dreamt during nighttime. Instead, we think of our beliefs, our values and interests and of how we apply them day by day in our work, our interactions, our hobbies. Psychologists show that we build our sense of identity based on what we can remember about ourselves. I think it's fair to assume that most of these memories happen during the daytime.
So why make such a big deal out of it? Well, because without the Sun, we wouldn't be having any of this. First of all, we'd be dead, so we couldn't really think of issues of identity anymore. Second of all, if we had a perpetual nighttime, we'd only have the Moon's emotions and instincts to guide us. We could barely recognize the difference between our imagination and reality. But with the Sun, the light of awareness interposes between the two, guiding our latent energy and potential to manifest through the interface of the ego.
In astrology, the Sun represents the conscious part of our personality, our self-image, our willpower. It's what differentiates us from others, what individualizes us from the collective unconscious. Just like the physical Sun keeps our solar system together through its gravity, the astrological Sun orchestrates all parts of our personality around the solid, luminous core of the ego.
Which is exactly why it can be difficult to pinpoint! I've spent years denying my Taurus Sun. Even though others could see me embody some cliche traits of this sign, such as stubbornness, perseverance or attraction to comfort, I thought myself too good to be reduced to these petty, non-intellectual characteristics. I've seen some of my friends do the same with their Sun sign.
It's difficult to look straight at the Sun. We're blinded, we recoil, we prefer to look somewhere else. It's the same with looking at our identity- our ego is so pervasive, it seeps through so much of our daily life that sometimes it can be difficult to turn a critical eye back towards it. So if you don't identify with the traits of your Sun sign, just ask someone else about it. You might not see your own light so clearly, but they probably will!
Remember that the Sun is not the only planet in your birth chart, but it's a part without which other functions of your psyche would slip into chaos, each manifesting its push and pull without any order. The Sun is your center, the control panel from which your life extends outwards. So what does your Sun sign say about you?
Sun in Aries
As the first sign of the Zodiac, Aries has the responsibility and the joy of making the first move. It marks the beginning of Spring, the start of a new cycle when life is a childlike celebration with sunlight, flowers and fresh air. When I think of Aries, the image of a small, yet fierce plant erupting through the soil towards the atmosphere pops into my mind. Aries is all about enthusiasm, innocence and passion for life, the pure energetic drive that fuels actions and pushes towards unrestrained self-expression.
The Sun is exalted in Aries- the ego revels in this unabashed manifestation of life, individuality and willpower. As an Aries Sun, your best strategy in life is to do as you will. Selfishness can, of course, be a trap, but its healthy variant is also the means through which you initiate, push through obstacles and dart forward, fueled by the energy of what you want to do for yourself.
Aries scowls at external authority and feels the need to take the reins of the situation they're in. If this is impossible, they can find ways to create conflict anyway. The ego here revels in competitive, stimulating situations, from sports contests to love games, and plays to win.
Aries is ruled by Mars, the god of war- the archetype of the Warrior or the Pioneer. It's important to choose your battles well, otherwise you might just be creating crisis for no particular purpose, stemming from a lack of genuine self-affirmation. Bursts of anger, impulsivity, not finishing tasks are just some ways that an Aries can try to cope with a reality where he feels restricted. Taking initiative for yourself, investing your enthusiasm into something constructive that you're passionate about and facing your fears on the way are all healthy manifestations of the Arian fire.
Sun in Taurus
After Aries won the war, it's Taurus' turn to reap the rewards, enjoying a world beyond conflict or the passionate need to achieve. When the Sun enters Taurus, spring is in full bloom. What has been initiated by the Arian fire is now rooted and given staying power by the fixed and earthy nature of this sign.
A Taurus doesn't want her world to be overly complicated. She needs her senses appeased and her natural liking of beauty and balance satisfied, all this in a way that's consistent enough for her to be comfortable. Feeling rooted in your body and in the present moment becomes essential in establishing your identity if you have a Taurus Sun, from simply indulging your senses to feeling completely at peace because you have the certainty that this moment here is wonderfully enough.
This is the best attitude for you in all your pursuits: going slowly, steadily, enjoying the process, but not in a blind "carpe diem" way, but with perseverance and commitment to your task. Once you've started working towards a goal, your willpower and your practical, down-to-earth approach will make sure that you'll get where you want to.
Of course, when pleasure and comfort are some of your main values, it's ideal to balance them with an orientation to growth and to the philosophy of "letting go". Otherwise, you might be eternally satisfied doing nothing or start depending on exterior sources, be it possessions, situations or people, to supply your daily quota of fulfillment. As the archetype of the "Earth Spirit", you operate best if you adapt to the natural ebb and flow of possessing, then letting go at the right time.
Sun in Gemini
Nearing the hot summer, Taurus' steadiness is replaced by the natural frolicking of Gemini. We're talking about an Air sign, so this agitation is happening on a perceptual and on a mental level.
It's all shaken up! If you have a Gemini Sun, your soul purpose in this life is to acquire as much information as you can.This isn't just about reading, talking and listening, but starts from the moment when you open your eyes in the morning and take in your surroundings, feeding on the vast expanse of reality that always has something new to stimulate you with.
Curiosity and willingness to be confused are the names of the game here. Gemini is a dual sign, so unlike the stubborn Taurus, he's always willing to see the other side of the coin. And after all, lack of certainty is what leads to exploration and to progress! As the archetype of The Witness and The Storyteller, your Gemini Sun best operates if he stays open to new things from the environment while also mastering the art of speaking. You probably won't have any problem with the latter, since Geminis are known for talking other people's heads off!
Beyond this simple behavior, though, lies a strong desire to take in information and to make connections, whether it's from one bit of knowledge to another or from person to person. The process is incredibly alive and vital and, from time to time, it's crucial to give your mind and your body some rest from the continuous buzz of nervous energy that fuels you.
With so much to know and so many paths to take, it's best to collect yourself from time to time, to decide where you want to go instead of only riding the (magnificent) wave of information coming from your environment. When your Peter Pan-like curiosity and wits manage to choose a concrete direction and apply it, you're unstoppable!
Sun in Cancer
The emotional, watery nature of Cancer combined with the growing warmth of summer is bound to be an emotionally explosive combination. When the Sun enters Cancer, nature is at its peak. Mother Earth is as plentiful and as nurturing as ever, overflowing with goodies.
If you're a Cancer Sun, subjective impressions and emotions are your lifeblood. Your instinctual understanding of sentiment makes you gravitate towards manifesting the archetype of the Mother- whether literally or in a symbolic way- and of the Healer.
Cancer is the Moon's home sign, so the Sun here embraces feminine qualities, becoming receptive, intuitive and dreamy. While the Sun imposes boundaries, the Moon dissolves them, so you might feel like the world's sorrow blends with your own in an indistinguishable, ever oscillating mess. That's why the Crab has her tough shell: her strategy is to protect herself as well as she can from the inevitable pain of life, be it through a safe home or a reserve in fully opening up to others. This defense, in a moderate dose, is needed for survival, as any change threatens the already unstable inner world.
A cardinal sign, Cancer is always ready to defend her and her loved ones' safety. Creating conditions for others to grow is the sign's highest expression, yet it's all too tempting to stay safe and invisible by always focusing on others. You're able to grasp a situation in a holistic way and to sink into your own psyche with great depth of feeling- ideally, you bloom these traits into a wonderful garden in which you nurture others, but you also take care of your own needs, both for safety and for growth.
Sun in Leo
In mid-summer, when it enters Leo, the Sun is king of the sky. It shines bright and shares its warmth with the world, just like a Leo Sun native at their best. The season is hot and getting drier: just as dry elements separate from each other, Leo makes a clear distinction between him and the rest of the world.
With the Sun being at home in this sign, the power of ego and individuality has the chance to fully manifest outwards through unabashed self-expression, creativity and love.
The self is a celebration with the Sun in Leo, and a celebration is rarely a one-man affair. Your soul's purpose is to make your inner world come to life by manifesting it in the exterior, be it through a concrete form of art such as dancing or acting or through simply being yourself moment by moment. Either way, you need an audience! This can be a great gift but also a liability. Remembering the Sun's gravity and ability to offer warmth, you can bring people together like moths around a lightbulb, captivating them with your presence and your generosity.
The fire of Leo is not a wandering fire, but a fixed one: you are loyal to your loved ones, to your beliefs and to your own will. This, however, might make it even more difficult to see yourself from the outside. As the archetype of the King/Queen and of the Hero, you're bound to see yourself as special and to project this confidence to others as well. Sometimes, though, when they don't respond as you wish, you can feel invisible, deprived. Then it's best to turn inwards and find, as a true sovereign, love (for others, but also for yourself) and humility standing side by side with royalty. When you truly connect to your heart, you shine genuinely and without any ostentation.
Sun in Virgo
It's harvest time when the Sun enters Virgo. The earth no longer laughs in flowers but in abundant crops. That's why Virgo is the symbol of hard work: she knows that Leo's playtime is over.
She doesn't need any applause, only the satisfaction of a job well done, and her ego is only secondary to her mission. This is the meaning of her purity.
Two forces dance together in you if you are a Virgo Sun: the idealized desire to attain perfection and the sharp awareness of how things are in the present. Your best strategy is analyzing yourself and the reality around you, seeing what can be improved and getting to work. Virgo is the archetype of the Servant: ideally, you dedicate yourself fully to your efforts, in any kind of work that you do, and you offer your results for the world to harvest.
A practical spirit and an inquisitive mind are hallmarks of your sign, but remember their purpose: to constantly better yourself and the world around you, to always strive for more. Of course, that sounds dangerous, setting the trap for self-criticism and inability to relax. It's important for you to see your and other people's value as a constant beyond (lack of) efficiency and the ideal image you know could be achieved.
Relaxing into the present moment from time to time becomes crucial for your nerves and your health. You have the detail-oriented intelligence and the pragmatism to find and to fix the gap between what is and what should be. If you also remember that in order to change something, you must first accept it, then your growth process flows even more naturally.
Sun in Libra
Night balances day on the Equinox, when the Sun dances his way to Libra. This sign knows how to reconcile opposites so that they're in perfect equilibrium and that all measures are enough- not too little, not too much, just vibrant harmony. And, just as day can exist and know itself only in contrast with night, so does Libra get to know themselves through interacting with others.
If you're a Libra Sun, your soul's purpose is to attain harmony, be it through enjoying beauty, creating beauty or through finding your missing piece in another. You are sensitive to any sign of discord and that is why you value peace and grace so much when you find them.Beauty is not only found in finite artistic pieces but in small gestures, in the words you exchange with others, in the way you choose to live your life day by day.
A masculine, air and cardinal sign, Libra may be sensitive, but he has a strong will when it comes to things that matter to him. On a mental level, your Libra Sun makes you able to consider opposites as equally valid and to tolerate paradoxes better than others.
However, in real life, beyond the play-field of ideas, the stakes are high: a choice must be made to progress, even if all paths may seem equally valuable. Otherwise, you are embracing your perfect knowledge in the middle of a desert- nowhere to go, no steps forward to be taken.
The Sun is in its fall in Libra. Individuality and separateness gives way to a path where your soul essentially evolves through relationships. You are the archetype of the Lover and the Peacemaker, so it gets all too easy to see and to try keeping harmony on the surface while chaos reigns beneath. You need to keep balance so your sensitivity won't get hurt, but consider the price you can pay for this sometimes- self-knowledge, depth, progress. Even balance needs to be balanced with the messy truth sometimes, just as companionship needs a counterpart of occasional healthy solitude.
Sun in Scorpio
You've probably lived enough to hear the nasty rumours about your sign. The truth is, people don't really like truth, and our mortality is always the black elephant in the room. When the Sun enters Scorpio, nature is slowly starting to decay, preparing for the great passing into her next cycle of existence.
You instinctively sense these less harmonious parts of life: the shadows, the nasty monsters in your mind, death, but more than any other sign, you're also aware of their hidden treasures. Darkness is part of us as much as light is. Death holds a meaning of transformation or rebirth.
Your soul purpose is to live intensely, as if you would die tomorrow- because you know that you might. Ideally, this awareness doesn't leave you any space for something other than your deepest desires, brought to form and turned into action. A Scorpio Sun is a fixed, watery sun: his biggest battle is with his own emotions and instincts, which surface from the unconscious into awareness without mercy. Your mission is to integrate these intense emotions and basic drives into your life by rejecting repression and embracing them instead, to be transformed into a way that hurts neither you or others.
You are the archetype of the Detective and the Sorcerer- with a piercing gaze turned both inward and outward, your mission is to uncover all that is hidden, to unveil the truth and to constantly transform yourself. With so much unconscious material to dig up, it's best if you avoid the temptation to project your own demons on others.
Too much self-knowledge and you risk self-destruction; too little, and you can end up looking outwards, for power, money or love, to fill the gap. Since your emotions run so deep, loyalty is one of the main things you value, and your natural determination and strength might find their shadow in a deep vulnerability. Your biggest treasure lies in what is hidden beyond appearance.
Sun in Sagittarius
Why does the Sun enter Sagittarius, the sign of exuberance and adventure, in the cold part of the year? After going through the previous 8 signs and encountering the darker times of Scorpio, the Sun emerges with a new understanding.
His mission is to tell right from wrong and his strategy is to push the limits of his world as far as they go, to trigger new understanding. This is a road that often separates him from others, simply because his love of freedom isn't something he will compromise.
As the archetype of the Gypsy, the Student or the Philosopher, you best function if you detach yourself from the norms of your culture or your usual thinking and seek a different perspective over the world, always looking for higher and higher meaning and integration. A mutable fire sign, Sagittarius shows that your soul's purpose is to live life as an adventure.
Maybe not all Sagittarians will travel to the end of the world. The essence here is not physical movement, but open-mindedness, the willingness to not settle for one inert worldview, but to constantly update your knowledge. What drives you the most is faith, be it religious, spiritual, faith in knowledge, faith in a cause. Once you've found your guiding star, your path is clear.
It's tricky for a Sagittarius Sun to walk the line between being overly optimistic, overlooking details in favour of idealism, always exploring without any particular goal, and on the other side, choosing to stick too dogmatically to one single direction. You're feeding your Sun if you manage to find a clear direction to shoot your arrow, yet you stay open and curious about other perspectives as well.
Sun in Capricorn
It's the Winter solstice when the Sun enters Capricorn, the coldest period of the year. The world is at a stand-still, frozen, dead serious. It's not a time to meet your friends and hang out in the park, but to retreat inwards, to reflect and to do your work.
If you have your Sun in Capricorn, your soul's purpose is to achieve worldly power without getting attached to it, based on a self-sufficiency that lets no exterior praise or critic affect your integrity.
A cardinal Earth sign, Capricorn's resources are patience, self-discipline and an iron will. As the archetype of the Hermit, you have strong roots in yourself and you are willing to work long-term for fulfilling your personal values, helped by an instinctive practical sense that you can use to transform your dreams into concrete reality. From up there on the mountain, you can see our silly little world and what matters to you is not the subjective impression, but what can be noticed, what each person does to contribute and fulfill their social role.
Self-control misdirected, though, can turn to emotional repression, and solitude can turn into a loneliness where you seek authority and control over exterior matters, forgetting to turn inward. The validation that you give to yourself for your work- for it naturally being something you enjoy and want to excel at- is ideally more important than any exterior, fleeting praise. The authority that you have over yourself, through marrying the mind, body and heart, is what can keep you moving forward with ideal pace and integrity.
Sun in Aquarius
The Sun is in exile in the sign of Aquarius. The Sun's warm self-expression, manifested perfectly in the sign of Leo, now meet the detached, otherworldly nature of Aquarius, giving birth to an ego who recognizes itself with difficulty precisely because his values transcend the usual notion of the ego: equality, freedom, bringing down old structures to build the new.
Aquarius represents large groups of people. From one perspective, this is ironic, given that the purpose of this sign is the opposite of blending in: if you have an Aquarius Sun, your soul's mission is to fully manifest your individuality, breaking the chains of social and cultural conditioning and daring to dream big, no matter how crazy others might think you are. From another perspective, it fits perfectly. A genius is usually exiled, in one way or another, from the rest of the world, but ultimately, his gifts serve the same world better than any pre-existing assumption would. This is your archetype: the Genius, the Exile.
A fixed Air sign, Aquarius seeks to extend current knowledge, stubbornly pushing the limits of what is socially acceptable. But fixed signs are always attached to something. In your case, it's an attachment to your personal freedom and to your own ideas. If you conform, you stifle your individuality, yet ideally you also avoid being a rebel without a cause or letting your stubbornness about your own ideas blind you against the knowledge that you so much value.  Either way, people might get hurt. They might not always agree with you, and integrating in a group could prove difficult. But as long as you're being loyal to yourself, you're on the right track; you're fulfilling your Sun's mission.
Sun in Pisces
The Sun enters Pisces before spring, the wettest time of the year, and being a water sign as well, it reflects water's tendency to bridge separateness, to be all-encompassing. Because Pisces is the symbol of consciousness, it's often said that it includes all of the previous eleven zodiac signs.
If your Sun is in Pisces, you instinctively know that what we experience is not objective reality, but a collective projection of consciousness. You find it easy to submerge in this ocean, in this creative source, be it through meditation, daydreaming or creativity.
What you look for the most is the experience of "other-worldliness", without it necessarily implying a religious or a spiritual orientation. You can fulfill your soul's purpose by living creatively day by day, by honouring your subjectivity and your imagination in the way that suits you the most.
Pisces' instinctive understanding of self-transcendence can bring them to a deep compassion and empathy, to a feeling of being connected with others and with a source of consciousness or of creativity, call it God, the universe, nothingness or simply inspiration. With self-transcendence, though, comes the danger of the ego dissolving, losing itself among a myriad of possible nuances.
When objective reality is sensed to be empty of meaning and subjective inner life becomes overwhelming, passivity, inertia or addictions can be strategies that Pisces uses to find a middle ground. As the archetype of the Mystic and the Dreamer, it's essential to stay in touch with yourself through introspection or creation, to dream and craft a life that you feel you don't need to escape.