Plant Medicine with Evelyn Viviana
•
Posted on January 24 2021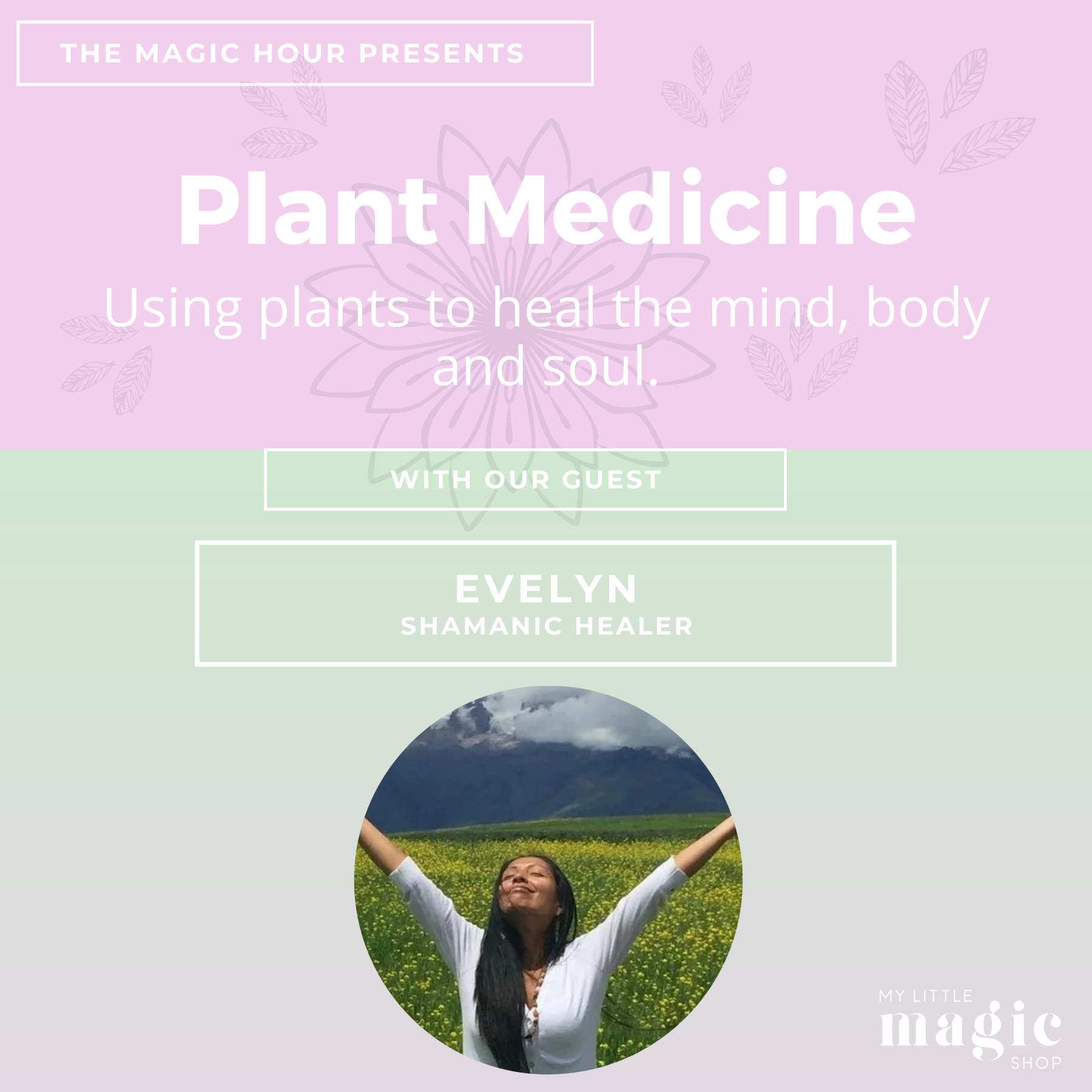 On this week's The Magic Hour, Shereen will be talking about the Plant Medicine, Shamanic Healing and Life Coach with the phenomenal Evelyn Viviana. She is the creator of In One Heart and hosts healing retreats and workshops around the world. Eve is here with us to share how she got into the mystical arts and give us the lowdown on plant medicine. Let's make some magic.
Episode Notes:
In this episode of the Magic Hour, we're going to talk about shamanic healing and plant medicine with Evelyn Viviana. Evelyn Viviana is a certified teacher from The School of Remembering, Founder of InOneHeart, a herbology expert and a practitioner of shamanic arts. Having her heart unlocked through spiritual ascension, Evelyn set herself into a journey of spreading the importance of being one with our hearts. Today, she will share to us her journey towards spiritual ascension to building a connection with Mother Nature and opening up your heart spaces.
Evelyn's Upbringing
[02:06]
Being born and raised in Peru, Evelyn always had the connection with the source and spirit. She always had the ability to converse with plants and rocks.
[03:03]
Having a hard time learning, Evelyn was always bullied in school. She realized that she needed to change her ways.
Truths, Consciousness and Integration
[03:49]
Reading various books that aided her proficiency to esoteric teaching, Evelyn discovered the deeper truths of consciousness.
[05:11]
Evelyn opened up herself again to connect to the Earth. Sensing the messages relayed into her by the sun, wind and Mother Earth.
[06:03]
Listening to the teachings of Drunvalo Melchizedek, Evelyn discovered the importance of raising one's consciousness and vibration to energy.
[07:08]
Evelyn became a certified teacher after reading the "Ancient Secret of the Flower of Life". She integrated her learnings to her work.
[08:15]
Having taught hundreds of workshops, Evelyn decided to start her spiritual journey after being called by the nature. She left her job, got divorced and practically destroyed everything that holds back to her construction of her heart space.
The Heart Space
[10:30]
Once people learn the heart space, couples become one—one being, one consciousness. This is the process of ascending to higher realms ultimately achieving peace, oneness and love.
[11:54]
When Evelyn was studying the teachings from "Awakening the Illuminated Heart", she learned that every action you take will be manifested. The importance of building your heart space comes as haven for negativity.
[13:43]
For Evelyn, this pandemic has been a blessing in disguise. People are too attached with worldly affairs—partying, drinking, and etc. They forgot to sit down and reflect with their inner being. This should be the time to understand oneself and self-reflections.
Plant Medicine Journey
[19:23]
Evelyn started with plant medicine when Mother Ayahuasca came to her. Her learning ability allowed her to skip went straight to the source. She ended up going to the jungle for fifteen days, alone.
[21:12]
With the aid of shamans, she went through a dieta. Her family was worried on her not being found for days.
[22:05]
Evelyn was willing and ready to die. She was able to find herself and her path.
[23:20]
Evelyn learned that it was all about programming. Shedding your psyche and becoming your authentic self—being as transparent as one can be.
Ceremonies
[24:35]
For the first two days, you will do a dieta to cleanse yourself. You will also be showered with different plants and be conducting Ayahuasca. These are necessary to cleanse all the negative energies. People have the astral plane and the ethereal plane; these are all found within our bodies with varying levels of aura.
[25:20]
Evelyn also has a special ceremonial space. Usually, one shaman will hold the space, singing the icaros—assisting your travels to your journey.
[26:15]
You will be brought back through the assistance of the shaman syncing the divine feminine and masculine energy.
Awakening
[27:21]
Through meditation, Evelyn was able to enter on her heart space. She found out that there are two spaces insides—the sacred space and the tiny space.
[28:10]
In that space, Evelyn was able to strengthen her connection to her higher spiritual self.
[29:29]
Evelyn's journey on the different lands, she learned about the locations of different chakras. She found out about the sun disk—a portal towards the higher dimensions and the ability to provide knowledge and wisdom.
Spiritual Retreats
[32:50]
Through the Awakened Illuminated Heart Workshop, many people come to Evelyn's retreat. The workshop consists of entering the heart space and activating your Merkava—the chariot or vehicle of ascension.
[33:44]
Evelyn's students were able to cleanse themselves and heal from emotional traumas. Coming together despite not knowing each other, they where able to have that connection through oneness of their heart spaces—their vibration to the magical space.
[36:42]
In a beautiful temple found at Andes of Peru, Evelyn was able to experience the primal way of spiritual cleansing.
[39:08]
Evelyn went for a hiking and trekking in Sedona—a place where the kundalini is activated. It was a spiritual place filled with energy. She was able to experience the temazcal, where an indigenous native conduct a ceremony through prayers, chanting and drumming. The goal is to burn everything that does not serve you to the spirit of fire.
Mushroom Medicine and Portals
[42:26]
Evelyn believes that all plants in the world are sacred. It assists you to alleviate diseases and providing in-depth awareness to emotional traumas.
[43:36]
Despite not having any experience with it, Evelyn still knows the basics—it has to be done sacredly, ceremonial method, putting the altar, music and the intention.
[47:28]
It was an arduous process for Evelyn to accept her calling—to hold the sacred spaces of other people. One needs to understand that by going through these spaces, you are opening portals. You need to be careful of the maestro or the shaman that will open the portal for you—nothing should be able to slip in during the process.
[49:55]
For Evelyn, plant medicines are there not only to feel you but to bring something extraordinary.
Maintaining Evelyn's Inner Sense of Peace
[51:26]
Evelyn meditates, not through sitting down but her life journey—life is a meditation. One needs to be present in the moment and she loves to take care of her altar. Lighting it every day, having incense and icaros—it all becomes a second nature to her.
Books used by Evelyn to find Life-changing discoveries
[54:46]
Evelyn recommends:
1.    The Four Agreements by Don Miguel Ruiz
2.    Heal Your Body by Louise Hay
3.    Ancient Secret Flower of Life by Drunvalo Melchizedek
4.    Living in the Heart by Drunvalo Melchizedek
5.    Tibetan Book of the Dead by Bardo Thodol
6.    Worldbridger by Juliet Carter and
7.    Byron Katie's books.
Movies to Revive Evelyn's Spirit
[59:10]
Evelyn watches The Matrix, The Notebook, Avatar, Interstellar and Lucy.
Follow Evelyn and InOneHeart on their socials:
Website: https://inoneheart.com/
YouTube: https://www.youtube.com/channel/UCdLgBzT_WitVn2STQLixYaQ
Instagram: https://www.instagram.com/inonehearttribe/ and https://www.instagram.com/justdiffrnt
Facebook Group: https://www.facebook.com/groups/922479271143518/
Tune in to The Magic Hour podcast to never miss an episode.
http://www.magichourpodcast.org/
https://open.spotify.com/show/0a4w8Z3UP3S9kC4BNVUEcg
https://podcasts.apple.com/us/podcast/magic-hour/id1122201914
Tune in to The Magic Hour podcast to never miss an episode.
http://www.magichourpodcast.org/
https://open.spotify.com/show/0a4w8Z3UP3S9kC4BNVUEcg
https://podcasts.apple.com/us/podcast/magic-hour/id1122201914