A Bushwick Pioneer: Feed Your Soul with Kweighbaye Kotee
•
Posted on March 14 2016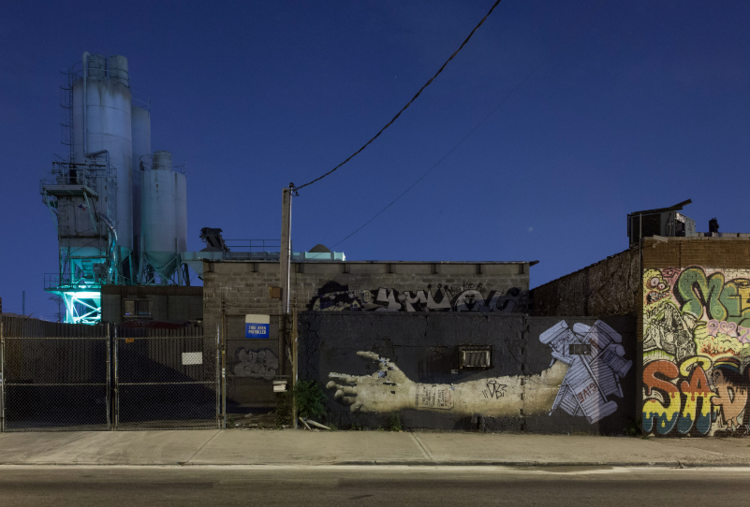 Kweighbaye Kotee is a radiant, young, Liberian born and New York City raised woman committed to nothing less than success. As a first generation immigrant from her war torn home country of Liberia, Kweighbaye is a shining example of living and pursuing the American Dream. She founded her first company, the Bushwick Film Festival, in 2007, which is now one of Brooklyn's strongest cinematic events, doubling its ticket sales in the last year. The festival collects submissions from over 25 countries in the world! Kweighbaye also created the Indie Cinema New York: a Vimeo site full of episodes hosted by Kweighbaye herself featuring independent filmmakers and anyone a part of the industry in order to educate and inspire all those who love independent film.  The entrepreneur has also become an independent artist herself; Kotee began The Bushwick Diaries in 2012, and currently offers life coaching and small business consulting services on her website. Inspired by the vibrant and culturally rich atmosphere of the city, the Bushwick Diaries are an intimate look into the lives of 20 people who call Bushwick their home. Kweighbaye Kotee is an entrepreneur and artist with a big heart, big personality and big smile. She is inspired and motivated by her city and has created so many wonderful things to represent Bushwick and its people through independent film. Feeding Kweighbaye Kotee's soul involves watching and writing films, doing yoga, meditating, dancing, creating and Bushwick (duh). KweighBAE.  
Are there any consistent activities or rituals you do to maintain a sense of inner peace? Meditation, yoga and writing in the mornings
When you are in an emotional rut, what are your go to ways to bring yourself out of that feeling? Crying, dance music, a good laugh and calling some one to find out how they're doing. Not necessarily in that order.
Before beginning a creative process, what type of preparation do you normally undertake? Candles; baths; meditation.
Describe a time you underwent a particularly stressful situation and what measures you took to move through that process. The most stressful time I've ever had was a period of depression. But really, I don't think there are any calculated measures you can take to improve that aside from consistently reaching out for support.
Do you have any favorite movies that always revive your spirit? This is always a tough question for me because I watch a lot of films. But the films that I'm most nostalgic about are films that I watched religiously with family and friends: like Michael Jackson's Moonwalker, The Never Ending Story, Coming To America, I'm Gonna Get You Sucka, Love Actually (in college!) and many more. I think it's a combination of the film and the memories of good times had while watching them.
Is there a particular genre of music that brings you calm? Classical.
What is the most inspiring book you have ever read? Just Mercy by Bryan Stevenson.
Are there any particular exercise routines or practices that you use for grounding? If so, describe how you discovered them. The only routine that I've managed to keep is my morning routine. This normally consists of tea, fruits, prayer, mediation, writing a page of gratitude (sometimes a page of what I'm pissed about to get it out!), making my bed and self-loving affirmations. All this normally takes about 45 min - 1hr and really helps set the tone of my day.
Do you meditate? If so, how did you learn and what methods do you use often? Yes! By attending a zen center in Brooklyn, practicing Bikram, listening to online videos and tapes from an Arsha Bodha center's site, asking around and of course committing to a set amount of time each morning. I practice different techniques but mostly just deep breathing.
What's your favorite motivational YouTube or Netflix video? I really like a wide range of motivational videos from Ray Lewis to Bruce Lee and everything in between. I watch a lot of the YouTube compilation videos about greatness. Like this one: https://www.youtube.com/watch?v=c0ZzN6hxdzo.
Who is the most inspirational person you have ever met, and what did they reveal to you that never left you? I never actually met her but I attended the Women of The World Festival at the end of last year and heard Leymah Gbowee speak. It was so powerful I cried. Being in her presence showed me what a woman standing in her power looks like. Also, hearing her speak made me realize how passionate I am about women's rights and helping abused women rediscover their voice.
kkotee@gmail.com or tweet at Kweighbaye! @kweighbaye